Read about the city of Aalborg
Aalborg Family Camping "STRANDPARKEN" lies 1.8 km. from the centre.
Right next to our Camping Site is the open-air swimming pool with free access – so remember your swim suits! There is a lovely sand beach, playground, beach volley and springboard on 5 and 10 m.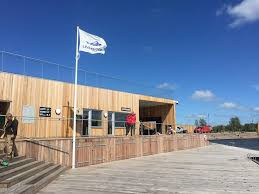 In close connection to the Camping Site there is a fine system of paths which some people call "fittness paths". Via the paths you can choose to go down to Limfjorden with the beautiful view. From here the small ferry sails which in a few minutes take you to the small island Egholm with about 55 inhabitants. The island has a good restaurant called "Kronborg" which is famous for its fried eels. Do you want coffee and cake Kronborg provides that too. Sit on the terrace and listen: the sounds and life from Aalborg city travel across the water – distant yet so close. Egholm is a small oasis in the middle of a lively citylife. The ferry fare forth and back is only 16 kr. Children half price. Maps and information about Egholm is available in the reception.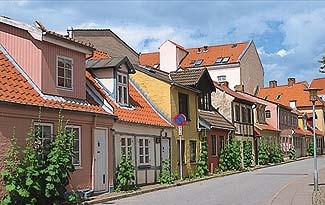 Returning to the mainland´s many other attractive offers:

Near our Camping Site you find the nature playground "Gåserød" – a fine alternative to our own excellent playground with space pillow, roundabout, climbing walls and other funny things. Nearby there is also a BMX-court, dart club, tennis court and football ground. You can also play petanque or miniature golf. A real golf court can be found 8 km. from the Camping Site. We have a swimming bath with a fitness club, wellness, internet cafe, and library – all under one roof.
Aalborg Trotting Course lies only 500 m. away – if you fancy playing on a couple of horses.

Here are pleasure boat harbours, a newer one with 600 boats and an older one "Vestre Bådehavn". In the pleasure boat harbour you can find a few cosy eating places. Eat your lunch here in a good atmosphere and with a view to the water and the boats.

A few 100 meters from the Camping Site is Aalborg´s "Marinemuseum". Board the submarine or one of the world´s fastest torpedo boats which are now ashore. There is a lot to see both for children and adults. At the Defence & Garrison Museum (Forsvars & Garnisons museet) You can see tanks, planes and many other things – come and explore it all!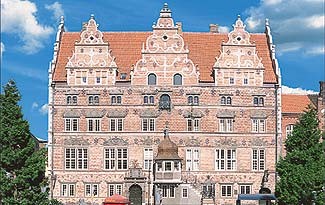 If you take the bus from the Camping Site – it runs from 6 am. – 12 pm. – you will come to a lively and very cosy city filled with exciting shops and long pedestrian streets. Here you will find malls, several good theaters, Denmarks newest and best cinema centre, yes, even a casino. You can see a glassblower in action, a ceramic workshop and lots more. Take a trip up in the Aalborg tower. The elevator will take you 106 m. above the surface of the ocean to a fantastic view.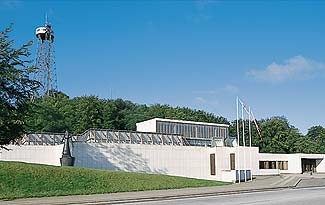 Kunsten, Aalborg kunstmuseum
We also have a concert hall if you like music/shows etc.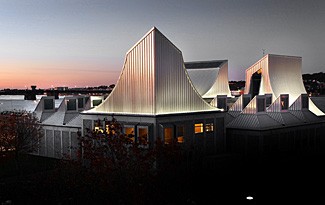 Utzon Center
By the new harbourfront You will find the UtzonCenter. Architecture for everybody.

The world famous architect Jørn Utzon designed the Utzon Center in Aalborg in collaboration with his son Kim Utzon. The Utzon Center was his last work before he died 28 November 2008 - ninety years old.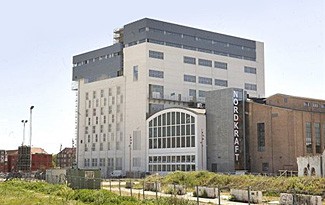 Nordkraft
Nordkraft is a cultural center located in Aalborg disused power station on the port, side by side with the neighbors Musikkens Hus and UtzonCenter on the central waterfront. 

Among the institutions that exist in Nordkraft are the Music scene "Skråen", the cinema "Biffen", the theatre "Nordkraft" - along with shops and restaurant Azzurra.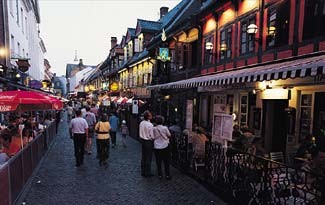 Jomfru Ane Gade
Remember to stop and enjoy the street life from one of the many cafe´s for example in Jomfru Ane Gade. "GADEN" is always full of people and you should at least take a stroll through it – you do not have to try it out!!!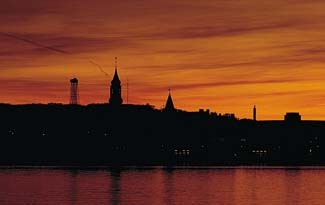 Aalborg Zoo is also worth a visit. They have many exciting animals and a good playground with activities if you need a break.

Or you could cross the river to Lindholm Høje and relive the Viking Age.
All this is merely a selection of what we can offer here in Aalborg.

Do you wish to know more about the activities in Aalborg you can check out the calendar of events on visitaalborg

Enjoy your stay. Best regards from "Strandparken".
Bitten & Bent

- Did we forget to tell you that there are many really good eating places at reasonable costs in the city?